Have Car Lovers on Your Holiday Shopping List? Here's What to Buy Them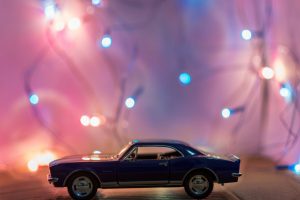 Want to start your car lover's engines this holiday season? We've got some gift ideas to help you out. Whether you're looking to surprise and excite them or you just need some ideas for stocking stuffers, here are a few options for the car guy or girl on your holiday shopping list.
Gift an Old Car to Fix Up
For the car lovers on your list who are also handy with a set of tools, splurging on a fixer-upper for the holidays can really win them over. You can search through thousands of used car listings and compare the best prices. Listings come from both dealership and private auto sellers, so your odds of finding an old car with potential are pretty high. When your car lover is a fan of the classics, you need to take some extra measures to ensure you are not getting in over your head. Some common rules for purchasing classic cars (ones that are at least 10 years old) include springing for a thorough inspection before buying and knowing whether insurance rates may be higher once the car is on the road.
If your favorite gearhead needs a set of tools or you want a gift that costs a lot less, you could also pick out a new collection that fits their needs. Read through reviews of the best mechanic tools before you pick a set up, or look for individual options to fill those stockings. Does your car lover have a workspace to fix up their car? Another idea is to gift them a new steel garage if their current garage doesn't have space (or if they don't have one). Steel structures are durable, easy to assemble, and comparatively inexpensive to traditionally constructed buildings.
Pick Out a Few Parts and Accessories
If a car is not in your holiday budget, you can still find plenty of great gift ideas. There are literally thousands of parts and accessories you can pick out for their car, including budget-friendly car chargers and extravagant custom-made car seat covers. If your car lover enjoys taking summer-long road trips, some new trailer tires could be ideal for their next adventure. If you're not much of a car enthusiast, you may want to spend some time researching accessories and parts before you pick them up. You can check out online reviews to find ideas, get expert tips, and make sure you're getting your money's worth from whatever you choose to put under the tree (or under the hood).
One of the most popular (and easiest) auto gifts to give is a new set of speakers. Choosing the right speakers can be stress-free if you check out some of the best models on the market, and your recipient can always swap them out if they prefer a different option. Know whether you're looking for a component or full-range sets, and try to get some measurements before you pick out a pair. For a car gift that will fit any make or model, you could also pick up a soothing back massager to take the pain and stress out of their daily commute.
Look Into an Exciting Driving Experience
When people really love their cars, they can be picky about what goes on or into them. If you don't feel comfortable choosing accessories or parts for your favorite car lover, gifting a driving experience is sure to rev their engines as well. There are car racing schools all across the country, and anyone who loves to drive will get a thrill out of these once in a lifetime experiences. From getting behind the wheel of a Porsche to fulfilling the ultimate NASCAR fantasies, there is a driving adventure to fit any auto enthusiast. Many of these schools offer packages and discounts, but you can also check online for ways to save on this truly remarkable gift. Sites like Groupon frequently offer special rates on driving schools and race experiences (as a driver or a spectator) so you can fit your present into your holiday shopping budget.
Choosing the right gifts for the holidays can be tough. If you are looking to pick the perfect present for your favorite gearheads this season, make sure you keep this gift guide handy. It's the easiest way to take the stress out of your holiday shopping!

Photo Credit: Pexels